ABOUT US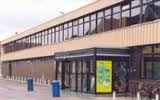 The Society is a local Model railway club that meets at Tolworth Recreation Centre (in the Hunt Hall) in South West London every Sunday evening from around 8pm until about 10.30pm.
New members are always welcome. We have five layouts in three gauges, although our members have a wide variety of interests and we try to cater for all aspects of the hobby.
The membership is drawn from across the local area, we have members from Tolworth, Chessington, Claygate, Hook, New Malden, Berrylands, Epsom, Ewell, Surbiton, Kingston, Esher, Hinchley Wood, Long Ditton, Thames Ditton, East & West Molesey, Walton and Wimbledon.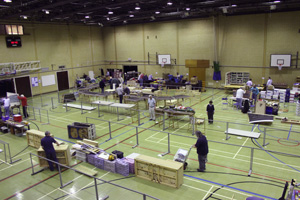 Members can be as active as they wish, either getting involved in building or operating our layouts, running their own trains on the layouts, bringing kits or projects to work on, or just simply sitting and talking to others with a similar interest in model railways.
Membership costs just £10 a year, with a weekly attendance fee of £1, so if you cannot make it down to the club regularly (and many of our members can't) you don't need to worry about wasting an expensive annual membership.
Our annual exhibition 'Tolworth Showtrain' has become an annual occurance, usually at the begining of November, and in a good year this will provide us with funds to invest in building layouts, subsidising visits, and our ever popular Christmas dinner.
If you are interested in becoming a member, why not come down and meet us one Sunday evening? Or you could fill out one of our membership forms and send it to the address printed on the bottom.
We won't expect you to sign up right away, so you can 'try before you buy'.
Certain meetings are busier than others, if a lot of members have been exhibiting at an exhibition they will probably have the Sunday night off to recover, but there is usually a small number of members who will attend come what may.